About us
About Steel Dust Recycling
The SDR Alabama site – in the middle of a growing steel-making region – is strategically placed to reduce transportation costs for nearby EAF steel producers.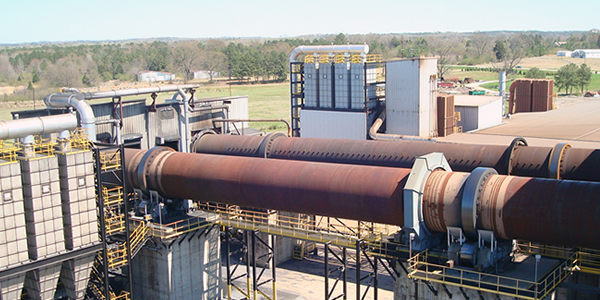 The SDR plant utilizes a Waelz Kiln to reclaim zinc and other metals from EAF dust. While not a new technology, the Waelz Kiln process is the primary metals reclamation process that has proven economically sound for processing steel dust waste.
The Steel Dust Recycling plant consists of a conditioning, blending and pelletizing facility for the EAF dust to be processed, a Waelz Kiln for processing the steel dust, storage and loading facilities for products to be sold, and the latest environmental control systems. The facility is located on 66 acres near Millport, Alabama. The SDR site has direct access to four major rail carriers and is near multiple Interstate highways.
Developed in 1910, the Waelz Kiln is a proven technology for high-temperature metals recovery (HTMR) of EAF waste. The result is more highly concentrated zinc oxides which are used as raw materials for zinc smelters. While many other technologies have been successfully tested for processing steel dust, none have proven as economically feasible as the Waelz Kiln process, which remains the best demonstrated available technology for recycling steel dust.
Mission
We provide solutions to society by developing innovate and sustainable processes that recover the value of materials.
Vision
To be a global, diversified company valued by customers, suppliers and our community, with a focus on long-term growth.
Values
Quality
We are committed to continuous improvement and satisfaction of customer requirements.
Discipline
We abide and comply with established rules; we work safely and are committed to punctuality, planning, order, and formality. We are prudent with decisions pertaining to the environment and our use of natural resources.
Fighting Spirit
We have the inner strength that drives us to meet challenges (passion), and the courage (boldness) to do what it takes when faced with adversity (tenacity); we are proactive and optimistic.
Loyalty
We are committed to protect, above all, the interests of the company and those who work in it.
Responsibility
We perform the entrusted tasks and decide our actions by conviction; we are responsible for these actions, accepting the consequences there of.
Simplicity
We are outspoken, humble, honest people and friendly towards our neighbors.
Teamwork
We combine our skills, experience, ideas and knowledge with a positive attitude towards our coworkers in order to perform a task or activity efficiently.
Versatility
We are willing to learn how to perform new or different activities to meet the needs of the company and the marketplace.